Why a Catamaran Tour is a Must-do for your Trip to Santorini
Why it's a must-do for your trip
There are so many incredible Santorini tours, but one of the most unique and special experiences must be a Santorini catamaran cruise. Step aboard your luxury catamaran yacht and savor the time to kick back, soak in the sun, and gaze across the sparkling turquoise sea.
1. Get panoramic views of Santorini
Take in the Caldera cliffs from the best vantage point: your luxury Santorini catamaran. Picture-perfect Santorini is known for captivating its admirers with its cliffs, unique beaches, and gleaming white houses topped with striking blue roofs. Lie back and take it in. Remember, you're on island time.
As you get further out to sea, a whole new world opens up. A Santorini catamaran tour is your gateway to the famous volcano, hot springs and the stunning views across the clear water.
Seeing the island from the sea brings a whole new dimension to your trip. View amazing images of our Santorini cruise.
2. Bathe in the crystal-clear sapphire waters and hot springs
For an essential Santorini experience, head to the volcano's warm springs and swim over the volcanic crater. Let these ancient, naturally-healing waters soothe your body and soul and emerge from the water revitalized.
Make sure your catamaran cruise heads towards the south of the island to the more isolated (and peaceful)  Mesa Pigadia & White Beach. Take your pick between swimming, a spot of sunbathing, or snorkeling to explore the hidden underwater caves.
You also can't miss the famous Red Beach, talked about for its incredible volcanic geological formations and rich earthy color (the clue is in the name!)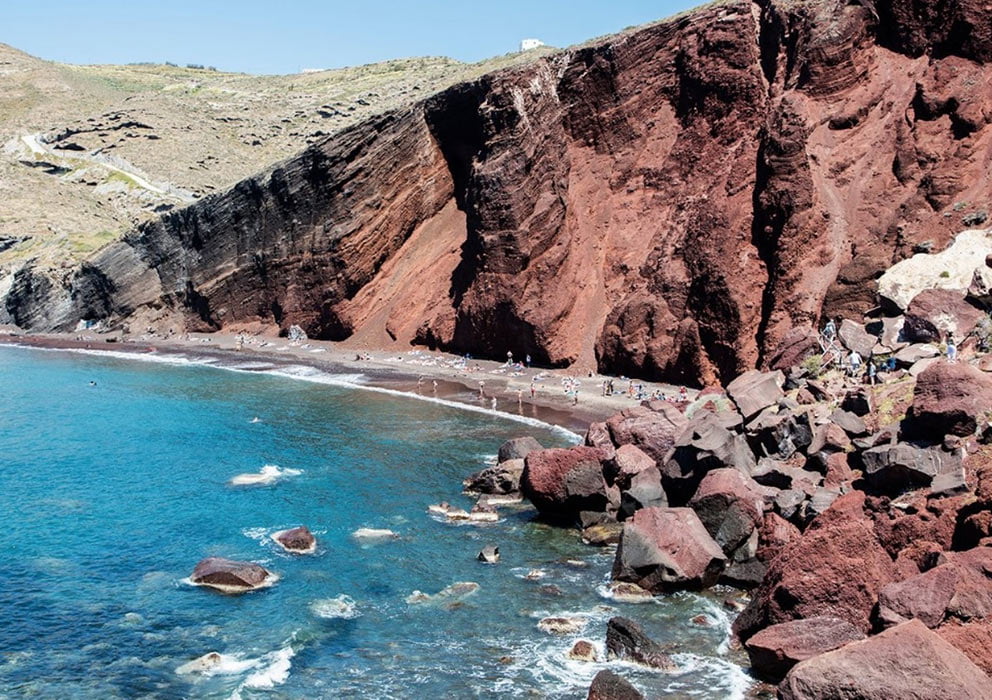 3. Set your own agenda on your private Santorini catamaran cruise
If you're looking for a romantic experience in Santorini to share with a special someone, a private Catamaran tour is truly it. Take in the Aegean landscape, enjoy the sun's rays on your deluxe vessel, and make memories while sampling some local wine.
Or, choose a small group Catamaran tour and meet some new people while maintaining a small-group experience. For a day trip to remember, opt for a stress-free five-hour cruise around the island for a well-deserved day of relaxation and awe-inspiring views.
Booking tip: For the most stunning time of day, opt for a sunset Catamaran tour of Santorini and see the sky painted with the most enchanting orange hues.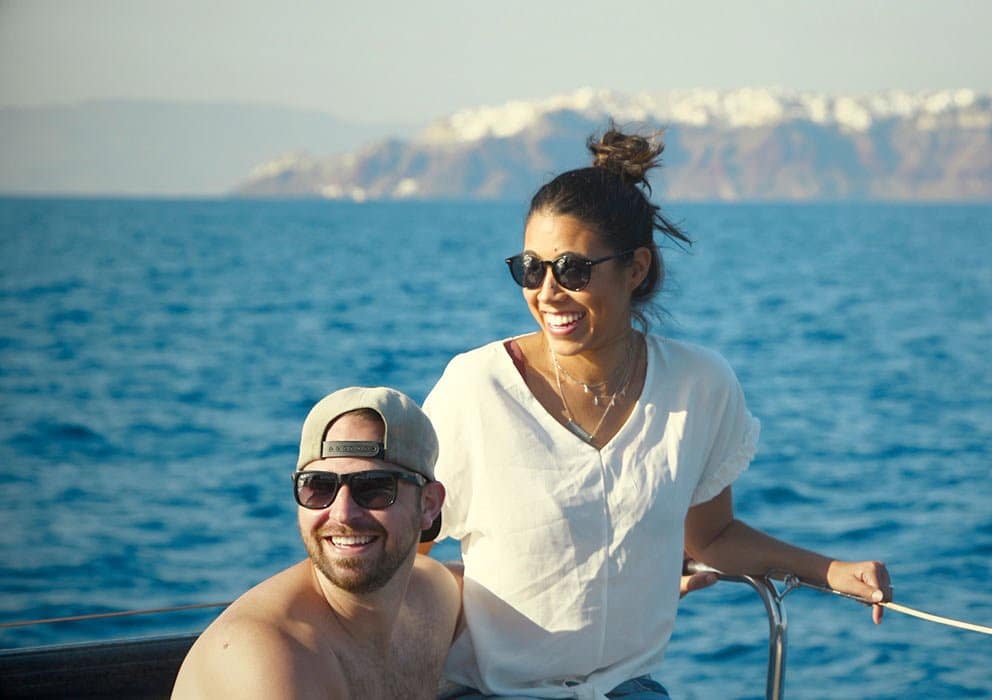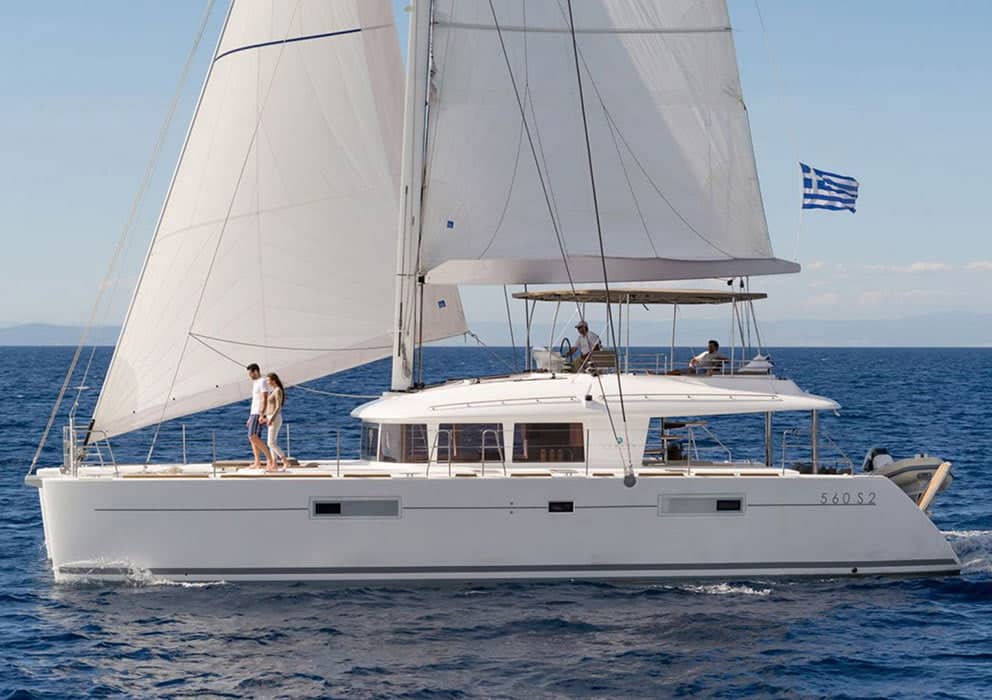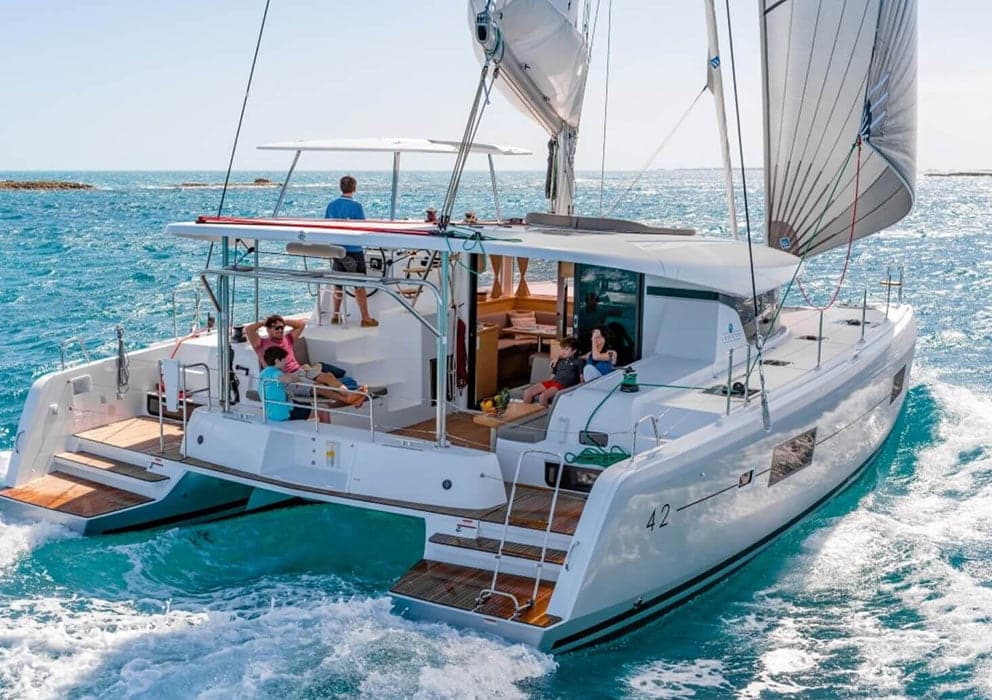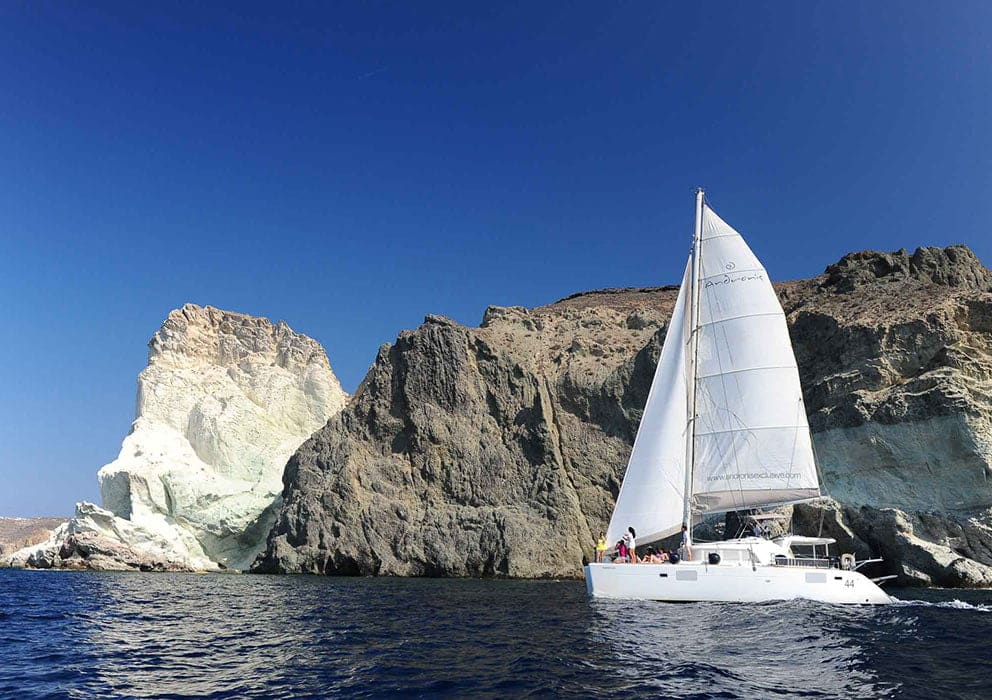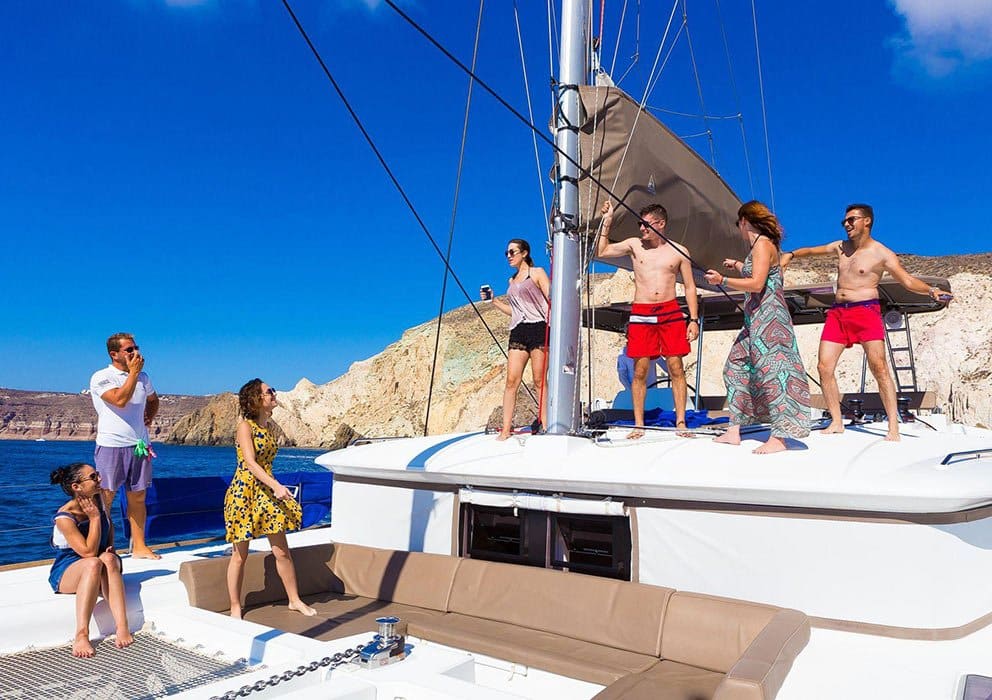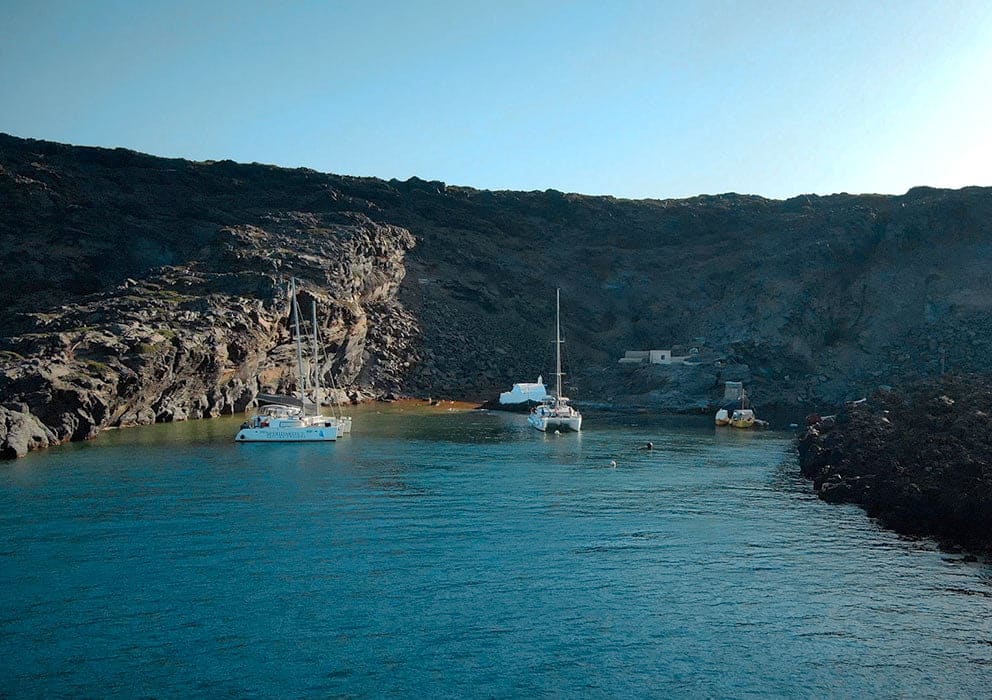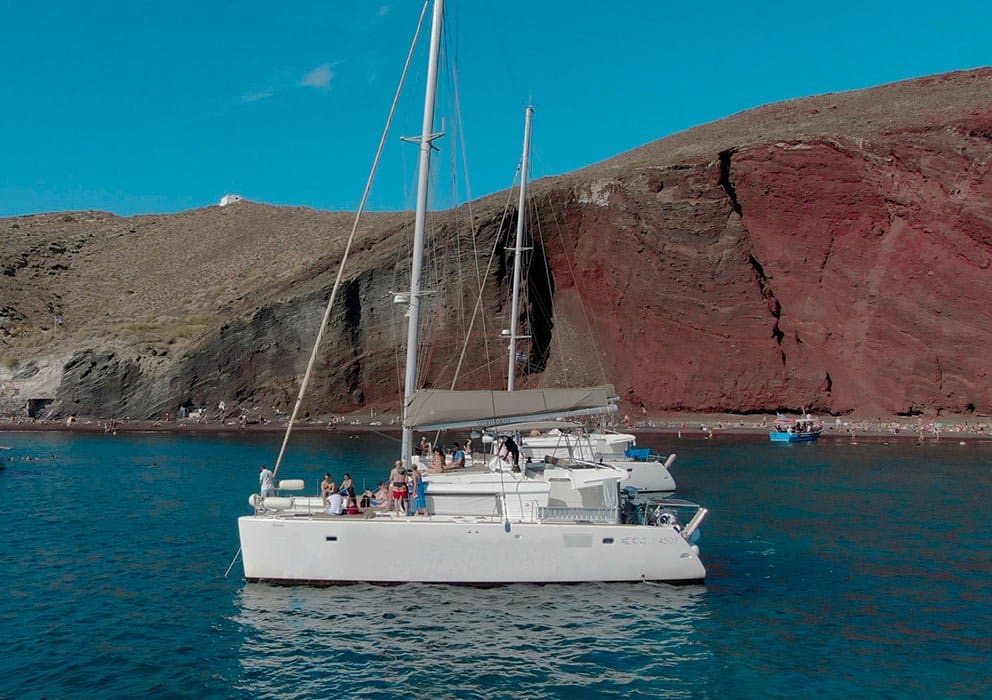 4. Your catamaran tour is a time for luxury
One of the best reasons to book a Santorini catamaran tour is, of course, to treat yourself. Organize your cruise and look forward to soaking in the Greek sun and diving into the blue sea as you count down the days to your vacation. Book your tour for midday and have an authentic local meal onboard your catamaran after a leisurely morning at your hotel.
As you cruise, enjoy a full Greek meal prepared on board including light fried fish fillets, grilled chicken fillets, Greek salad, fresh bread, traditional and unique appetizers, topped off with a glass of Santorini wine, beer, or a soda. Enjoy the serenity of several hours without any pressure or expectations – other than relaxation – as you lounge on board. A perfect day!
We offer top-rated catamaran tours of Santorini – view them here or contact us with any questions!
Are you looking for other ideas of unique things to do in Santorini? Get a taste of local grapes on a wine tasting tour, or master the local cuisine with an authentic Santorini cooking class. For a real bucket list experience, take your trip to new heights with a helicopter tour of the island.